Americans create more than 200 million tons of trash each year. Everywhere you look there are services, programs, and educational promotions pushing the importance of reducing, reusing, and recycling as much of that waste stream as possible. Common recyclable items include paper, cardboard, plastic, glass, aluminum and steel cans, textile and fabric materials, and electronics. It would be great to recycle our planet to zero waste. But how do we find out exactly what can be recycled? Are there unique items we are throwing away because the public doesn't know that they are recyclable?
The good news is that little by little communities are learning what can be recycled. Not only is the recycling rate up, but recycling technology is up, too! We can now recycle unique items that were not recyclable in the past. Did you know that crayons, wine corks, tennis balls and Christmas lights are recyclable? To get to zero waste the public needs to be educated on what can be recycled so less gets thrown out in the trash.
Texas Recycling Knows What Can Be Recycled. Call 214-357-0262
At Texas Recycling—the source for the industrial and commercial recycling of corrugated, cardboard, paper and scrap metal in Dallas, Texas—our goal is to encourage any recycling efforts that reduce the negative environmental and economic impact on our planet, even if it involves materials we can't accept here at our Public Buy Back Center.
Stop and Think About What Can Be Recycled Before Throwing Away Unique Items
Even the most knowledgeable recycling enthusiasts focus more on the common items and materials that we recycle every day—aluminum cans, plastics, paper, cardboard, newspapers, food containers, jars, beer and soda bottles, etc. If you are consistently recycling these items, give yourself a pat on the back; you're a recycling star!
But before you head out to the bin again, think twice about what can be recycled before you trash these items:
Shingles
Packing peanuts
Crayons & writing instruments
Eyeglasses & hearing aids
VHS tapes, CDs, video games
Tennis balls
Wine corks
Old or broken keys
Mattresses
Running shoes
Dentures
Prosthetic limbs
Batteries
Credit cards, ID cards
Greeting cards
Call Texas Recycling for Scrap Metal, Paper, Cardboard Recycling and more! 214-357-0262
A Chance at a Second Life: Reusability
Truth be told, most Americans don't consider giving the many of the items listed above a second life. It's not intentional, and it's not being lazy. Rather, most people don't know what can be recycled and reused. When was the last time you thought about recycling Grandpa's old dentures instead of just tossing them into the trash? Greeting cards can have a short shelf life, so they also tend to get tossed after being enjoyed for the holiday or event.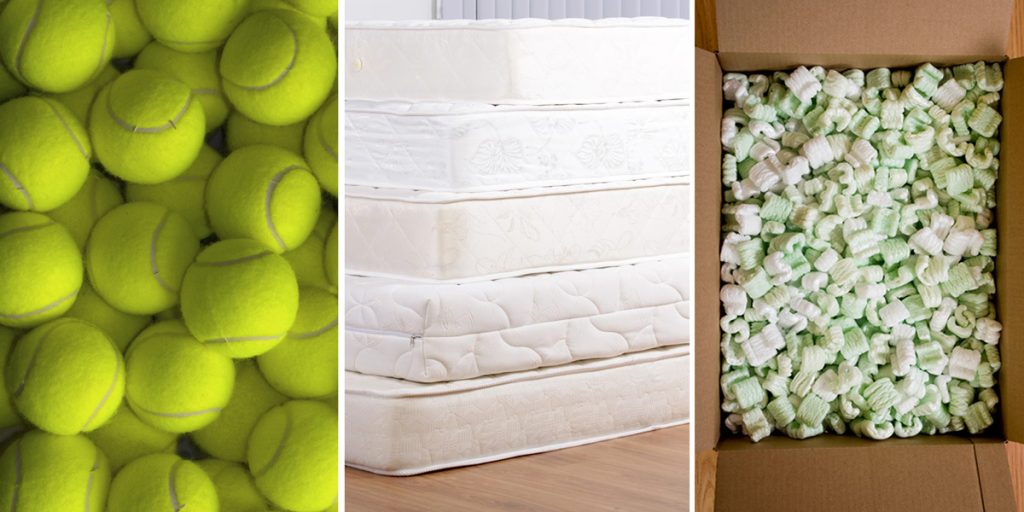 Here are specific ways recycling professionals are breathing new life into some of these unique items. We've also included resources regarding what can be recycled now that couldn't be recycled before.
House shingles are made of asphalt and can be broken down and reused for pavement. The Environmental Protection Agency has said that recycling shingles can yield cost savings and potentially even enhance roadway performance.
Did you know that CDs can be melted down and used for building materials? Or, reuse CDs to create some beautiful crafts, such as suncatchers and disco balls.
Wine corks cannot be reused as wine corks due to bacterial concerns. However, they are a great material for everything from floor tiles, insulation, drink coasters, and bathmats.
Running shoes can be recycled to create sports equipment and playground flooring.
Recycling dentures? Grandpa's false teeth have gold, silver, and palladium in them. You could sell them or call a school to see if they'd like to use them for a health class. Or they can be donated to the Japan Denture Recycling Association.
Packing peanuts, crayons, greeting cards and tennis balls can all be recycled and/or reused for the same purpose. Crayons can be melted down to make new crayons, and greeting cards can be recycled or cut up to make new, personalized cards.
For those of you who have a charitable heart, you can send eyeglasses to organizations like New Eyes for the Needy and prosthetic limbs to the Amputee Coalition of America. Mattresses can also be reused in prisons, retirement homes, and for the less fortunate.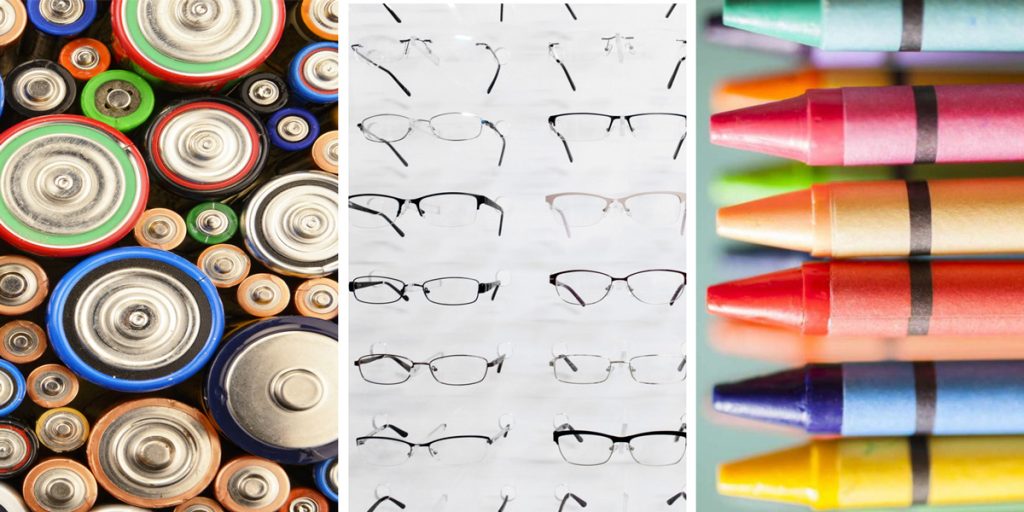 Learning What Can Be Recycled Helps the Environment
Recycling is crucial to protecting our planet from unnecessary waste, but it is also a business. A unique material will only be recycled if there is a market for it. With the help of our communities, learning what can be recycled or reused will strengthen our economy and allow us to develop technology to add even more unique items to the recyclable list.
Does your company want to know what can be recycled? Texas Recycling in Dallas is one of the largest multi-material recycling companies in North Texas. We process tons of recyclable paper and cardboard at our 225,000-plus square foot facility, not to mention commercial scrap metals like copper, aluminum, and brass. Let us customize a recycling program for you! Recycling helps the environment and your company's bottom line. To learn more, call 214-357-0262 or contact us.