PLEASE NOTE: Our regular process may be affected by COVID-19.
Check here for updates on hours, what we buy, and our procedures.
We accept paper, newspaper, cardboard, office paper, other types of paper, aluminum cans, and tin scrap metal at this time. Other SCRAP METAL is NOT accepted at the Public Buy-Back Center but is processed through our commercial and industrial recycling programs. Please call the office at 214-357-0262 for details.
With our dedicated Public Buy-Back Center, we make it easy for small businesses, sole owners/operators and individuals to transform your trash into treasure, while helping the Earth at the same time.
What happens when you arrive? Our friendly staff will assist in unloading your vehicle. We have lots of baskets and we'll get you through the weighing and sorting process quickly. Then, with your ticket in hand, visit our cashier for payment. It's that easy!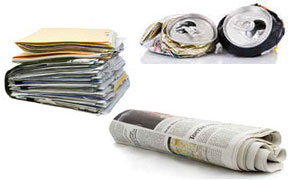 WHAT WE BUY
PAPER AND CARDBOARD
Newspaper (including inserts)
Office paper (staples, rubber bands and paperclips are OK)
Printed and non-printed paper
Files and records
Baled and loose cardboard
FERROUS METALS – Commercial/Industrial Accounts Only (No Buy-Back Center)
Aerosol cans
Appliances
Automobiles
Air conditioning compressors
Bicycles
Busheling
Cable and wire
Cast iron
Chain link fencing
Drums, barrels and other containers
Gas cylinders and tanks
Heavy melt steel
Metal banding
Metal roofing
Motor blocks
Propane tanks
Rebar
Sheet metal
Steel
Shock absorbers
Tin
NONFERROUS METALS – Commercial/Industrial Accounts Only (No Buy-Back Center)
Aluminum cans
Aluminum, including rims, siding, sheet
Aluminum litho plates
Coils
Copper, including #1, #2 and bare bright
Copper wire
Electric motors
Electrical parts
Electrical wiring
Insulated wire
Irony aluminum, including lawn furniture
Lead-acid batteries
New production
Other alloys
Plumbing parts
Radiators
Red brass (Ebony)
Shredded scrap (Zorba)
Stainless steel
Turnings
Wheel weights (Ropes)
Yellow brass (Honey)
Zinc
WHAT WE DON'T BUY
Scrap metal at the Public Buy-Back Center, except aluminum cans
Direct mail
Phone books
Magazines
Paperback and hardcover books
Airbags
Closed containers such as enclosed drums or tanks
Hazardous waste or chemicals
Electronic scrap
Flammable materials – ammunition or explosives
Fluids including oils, gasoline, antifreeze, hydraulic fluid, gear oil or grease
Fluorescent lights
Paint cans
Radioactive materials
Refrigerants
Tires, wood, dirt, yard debris, concrete, asphalt, glass, rubber or other non-metal materials
PLEASE NOTE
The lists above show the items we generally buy and do not buy.
The lists are not inclusive; other items not listed may be inappropriate for recycling.
Policies for metal acceptance are based on local laws, facility equipment capabilities and local conditions.
If you have any questions about specific metals we accept, please contact us for additional guidance.