DALLAS, TEXAS (March 2023): Texas Recycling, a three-generation family-owned Dallas recycling plant in Dallas, TX is excited to announce the arrival of a new state-of-the-art material handler. The new equipment, affectionally named "Big Red," will help the company load and weigh oversized and unprepared metal recycling materials and more in half the time of previous equipment. Big Red is manufactured by Taylor Machine Works in Louisville, Mississippi. There are several sizes—many of which are currently being used by pipe and steel producers in Texas. Texas Recycling's T-1035V model is smaller than those but still weighs over 20 tons and sports a capacity 300% higher than previous metal recycling equipment.
The new equipment has arrived and is already in use. By increasing efficiency and reducing personnel, Big Red is expected to lower the company's cost per ton of metal handled and make them ultra-competitive in the marketplace, a benefit to their customers.
"We can load rail cars and trucks in less than half the time of previous equipment," said Bill Prager, Texas Recycling's Metals Division Manager. "We can also reposition unprepared metal quicker, and Big Red also weighs the scrap as it loads. These items speed up our shipping and guarantees each end-dump and rail car are loaded to the correct weight."
President and Co-Owner Joel Litman added that improving metal recycling processes are more important than ever.
"We have been serving the DFW community for over 30 years, and we believe it is our social responsibility to protect the environment in any way we can—including taking a hard look at the equipment we've been using and what can help us do what we do better," he said. "Big Red checked off all the boxes we were hoping to check in our equipment acquisition search."
Ease of Operation and Efficiency
The Taylor T-1035V, or Taylor Wheel Loader, is suited to move or load materials such as finished lumber, logs and poles, wood chips, steel and concrete pipe, demolition debris, and raw minerals. An increasing number of metal recycling companies have also recognized its benefits for recycled and scrap material for processing and manufacturing. Texas Recycling handles roughly 200 million pounds of scrap per year and is agile enough to manage all phases of materials recycling: buy, segregate, package, and ship. The company previously used a telescoping JBC made handler for its larger jobs but is excited about Big Red's capacity and speed moving forward.
Here's how Big Red works: It will move to a pile of steel, grab 10 cubic yards with a squeezing grapple, and move to a nearby rail car to dump the scrap steel over the side of the car. That process repeats throughout the day.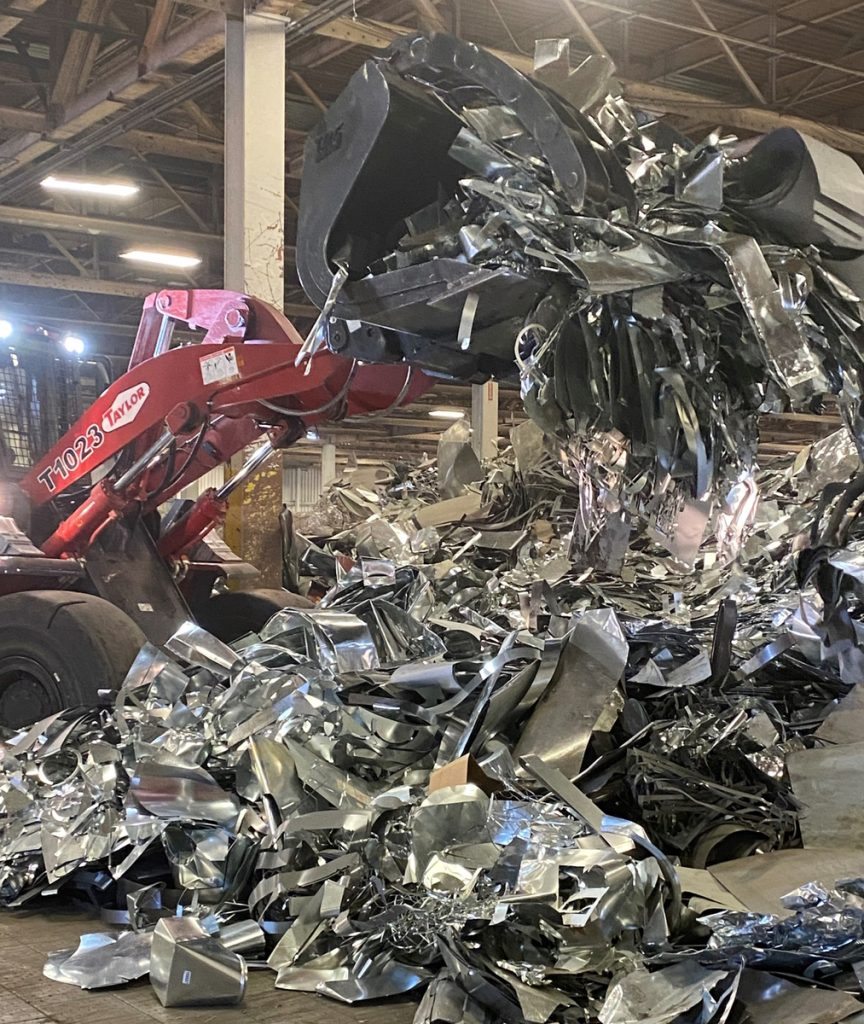 A few prominent features of Big Red include the following:
Heavy duty steel chassis
Ability to position the load closer to the tires and improve distribution of stress
Two hitch, belly guard, and articulation locking bar
Full rubber floor mat for dampening of vibration and noise
Adjustable steering column and single joystick control
Hydraulic quick coupler
"It's an innovative tool that makes everyone's job easier," Litman said. "Anything that lowers our cost per ton is advantageous in comparison to our competitors. We can pass along savings to our customers, bringing them greater value."
About Texas Recycling
Founded in 1992 by the Litman family, Texas Recycling is a leader in the Dallas/Fort Worth area for value-added, quality commercial recycling. Their South Dallas operation fills more than 225,000 square feet of manufacturing and warehouse space. This location brings paper, newspaper, office paper, corrugated cardboard, aluminum cans, and industrial metal recycling to an area in D/FW that did not have this opportunity previously. Texas Recycling believes in delivering uncompromised customer service to its clients and developing strong ties with the community.
About the Texas Recycling Buy Back Center
As the largest family-owned and –operated paper recycling and multi-material buyback center in D/FW, Texas Recycling collects and ships millions of pounds of scrap materials to domestic and international consumers each month. The Buy Back Center accepts paper, newspaper, office paper, cardboard, tin scrap, and aluminum cans. The Buy Back Center is open to the public on weekdays near Fair Park and Downtown Dallas, at 1420 S. Barry Ave., Dallas, TX 75223. To learn more call Texas Recycling at 214-357-0262 or visit the Texas Recycling website at texasrecycling.com.