Contaminated Cardboard Recycling: Don't Make It Your Fault
As a society, we deserve some credit. Recycling efforts across the country are increasing. Additionally, we are doing more plastic, paper, metal, and cardboard recycling than ever before. The recycling rate in the United States was less than seven percent in 1960 and is currently 32 percent! By increasing our recycling efforts, we are not only helping our environment, but also creating jobs and supporting community development.
Can we do even better? The short answer is yes, but not only in the way you might think.
Texas Recycling is a primary source for paper, metal, and corrugated cardboard recycling in Dallas, Texas. Unfortunately, in our business we often see what is widely referred to as recycling contamination. This is when well-intentioned customers unknowingly try to recycle the wrong items together or think non-recyclable materials can be reused. So, as mindful as we are of the 3 Rs—Reduce, Reuse, Recycle—there is a need for more recycling education. We need to specify which items or materials can be recycled together. We also need to clarify which ones can lead to contamination of our paper, metal, and cardboard recycling if not disposed of in another eco-friendly way.
Call Texas Recycling in Dallas, TX for Cardboard Recycling and more!

214-357-0262
Contamination happens every day, especially in community programs that offer plastic, glass, paper, metal, and cardboard recycling for residential neighborhoods. That means you could inadvertently be part of the problem. But we are going to share how you can become part of the solution.
The Dangers of Contamination in Paper, Metal, and Cardboard Recycling
Recycling contamination happens any time an item or material that is not recyclable is collected and thrown in with recyclable items. Even items that are technically recyclable can contaminate the recycling process if put in the wrong batch. This is called incorrect disposal. Examples of potential contaminants include but are not limited to:
Soiled and greasy boxes (example: pizza boxes)
Plastic bags
Loose shredded paper
Beverage cartons
Christmas lights
Garden hoses
Paint containers
Glass
Diapers
For recycling facilities and processors all over the world, contamination leads to equipment malfunctions, injuries, and slower material sorting.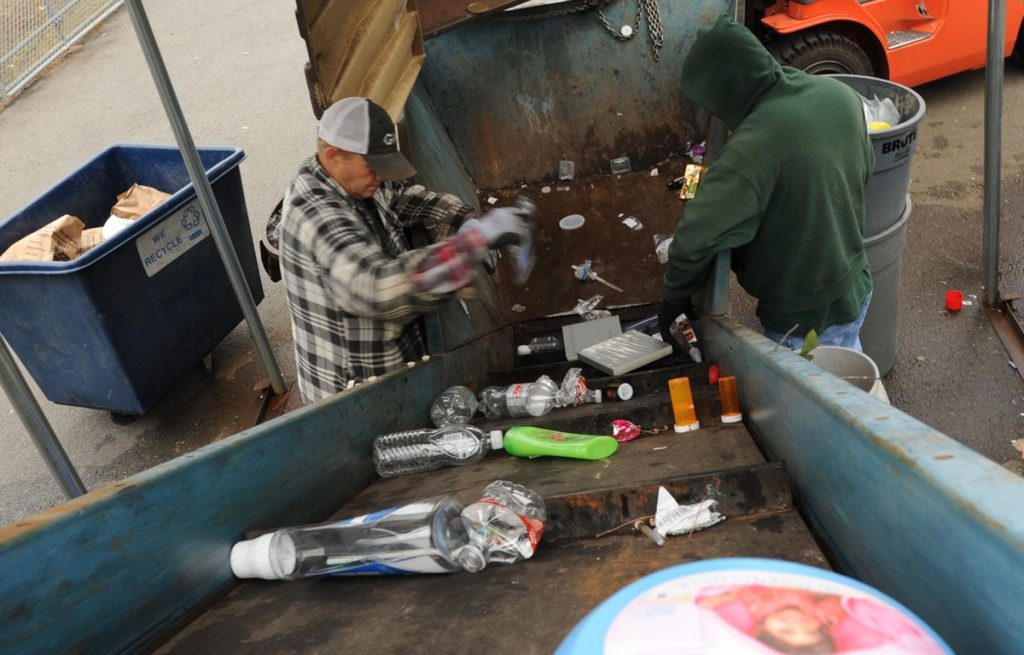 Here's one story shared by a worker at a waste management recycling facility in Maryland. He describes lunging across a moving conveyor belt to grab a garden hose before it got caught in a giant sorting machine. Other items he has witnessed requiring fast thinking and swift removal are Styrofoam, syringes, and even remnants of a screen door. His story is just an example of a much larger issue in today's paper, metal, and cardboard recycling industry.
Texas Recycling: Cardboard Recycling and a Whole Lot More!

214-357-0262
"Ten or 15 years ago, to increase recycling rates, we wanted to make it as easy as possible for Americans to recycle so we told them to put it one big bin. So, people are putting everything they think could—or should—be recycled into the bins. We have a lot of aspirational recyclers," David Biderman, executive director, and CEO of the Solid Waste Association of North America, said in an article. "Contamination rates at recycling facilities have increased significantly over the past five years."
For the environment, contamination in our paper, metal, and cardboard recycling leads to a devaluation of recyclable materials. Plus, more items unnecessarily end up in our landfills.
4 Tips to Avoid Contamination in Plastic, Glass, Paper, Metal and Cardboard Recycling
Sort everything! For example, store plastic recycling separately from cardboard recycling.
Are you unsure if something can be recycled? Contact your local recycling center. There are resources online, such as The City of Plano's guide for residential recycling. You can also view the list of accepted items at Texas Recycling's Public Buy Back Center on our website.
Keep your items and materials clean. Empty and rinse all containers.
Research in advance, so you know which items are NOT recyclable.

At Texas Recycling, we have high hopes that with outreach and education, recycling efforts will continue to grow. Plus, by building awareness about contamination in paper, metal, and cardboard recycling we can decrease the number of recyclables redirected to landfills. We strive to be a part of the solution.
Texas Recycling is Your Go to for Cardboard Recycling
Does your business want to increase its efforts in paper, metal, and cardboard recycling? Do you want to recycle correctly and without contamination? Texas Recycling in Dallas is one of the largest multi-material recycling plants in North Texas.
We process tons of recyclable paper, cardboard, newspaper, and office paper at 225,000-plus square foot facility, not to mention scrap metals like copper, aluminum, and brass. Smaller businesses and individuals can visit the Public Buy Back Center.
For commercial and industrial clients, we offer customized recycling programs that include scheduled pickups for large volume recyclers. Find out how recycling and helping the environment can also help your bottom line. To learn more, call 214-357-0262 or contact us.