Americans buying and selling used merchandise at yard sales (aka garage sales, rummage sales) is a standard practice. Perhaps you have organized a few of your own—or with neighbors—to declutter. You put out tables of old clothes, kids' toys, and household decorations in your yard, draw up signs, register with your local community, and hope treasure seekers find the perfect item to take off your hands, also while supporting the Reduce, Reuse and Recycle movement.
Online Yard Sale Groups Gaining Popularity
Yard sales will always have their place in our society. There are tips all over the web to help make them as successful. But when the COVID pandemic hit, more of us searched for socially distanced yard sale options. Plus, as shoppers became more tech-savvy, the number of online garage sale groups on social media sites like NextDoor and Facebook increased, and Facebook Marketplace usage blew up. In addition, buying and selling apps such as 5miles and OfferUp revolutionized the process of finding reusable goods close to home.
Seasoned yard sale shoppers now have the option to offer and find great deals without leaving their homes. They save time and gas not traveling to onsite yard sales. They can even shop in the comfort of their pjs! It's a win-win for everyone! For recycling enthusiasts looking to Reduce, Reuse and Recycle, online garage sales are an easy way to make some green while going green.
At Texas Recycling, your source for corrugated cardboard, paper, and aluminum can recycling in Dallas, TX, our goal is to educate and encourage recycling efforts. Yard sales and online buy-sell groups are yet another way to reduce the negative environmental and economic impact on our planet. After all, we are in this together, so why not share our knowledge?
As stated in a classic article by WBUR, "[Yard sales are] the only transactions in America where the seller says, 'These things have fallen below my standards, so why not save me a trip to the dump and give me a few bucks for them.'" The writer suggests that's a bad thing, but in an age where we focus on goods being recyclable and salvageable, most environmentally aware buyers are OK with that. They will gladly rummage through cast-away items to find a hidden gem. As the old saying goes, one person's trash is another's treasure.
5 Benefits to Reduce, Reuse and Recycle with Yard Sales
Less trash – We already create more than 200 million tons of trash each year. Garage sales reduce the number of items that end up in landfills. Even an item that is broken can sometimes be sold as parts, to be reused or fixed by a creative garage sale enthusiast.
Extra space – Homeowners tend to collect a lot of stuff that goes unused. A purge for a yard sale gives new life to items purchased and reused by appreciative new owners. Besides, it can be healthy to organize and de-clutter, both physically and mentally. Think of how much less dust there will be!
New to You! For less! —Not everything you find at garage sales is rusty, broken or old. In fact, you can find many items in good or even new condition. That ugly holiday gift from your great aunt may be exactly what a buyer needs to finish their collection. That exercise bicycle you bought with the best of intentions may help a veteran with rehab. From furniture to appliances and more, people who are moving sell pieces locally instead of paying to ship or move them. Items that you may not be able to afford at retail prices are now a bargain at yard sales.
Teach the next generation – If you have children, bringing them to a yard sale, or hosting one of your own, teaches them the importance of reusing and recycling. And the value of money.
Reduce, Reuse and Recycle — Even the savviest of recycling enthusiasts focuses on the common materials that we naturally recycle every day: aluminum cans, paper, cardboard, newspapers, etc. But yard sales allow us to expand the possibilities of what can be reused, recycled, and even repurposed while reducing the amount of trash.
Even though not environmental reasons, holding and visiting yard sales is a satisfying way to spend time. As a purveyor, you can make extra money. Even with the low pricing associated with yard sales, a quality sale with a lot of desirable items can earn a significant amount of money. It's worth the extra time and effort to plan, price accurately and be prepared. As a shopper, the best part about yard sales is that they are all different. You never know what treasure you'll find, and the joy comes with a successful search. For both, enjoying the sunshine, getting outdoors, and meeting new people are bonus advantages of spending your Friday and Saturday mornings at garage sales.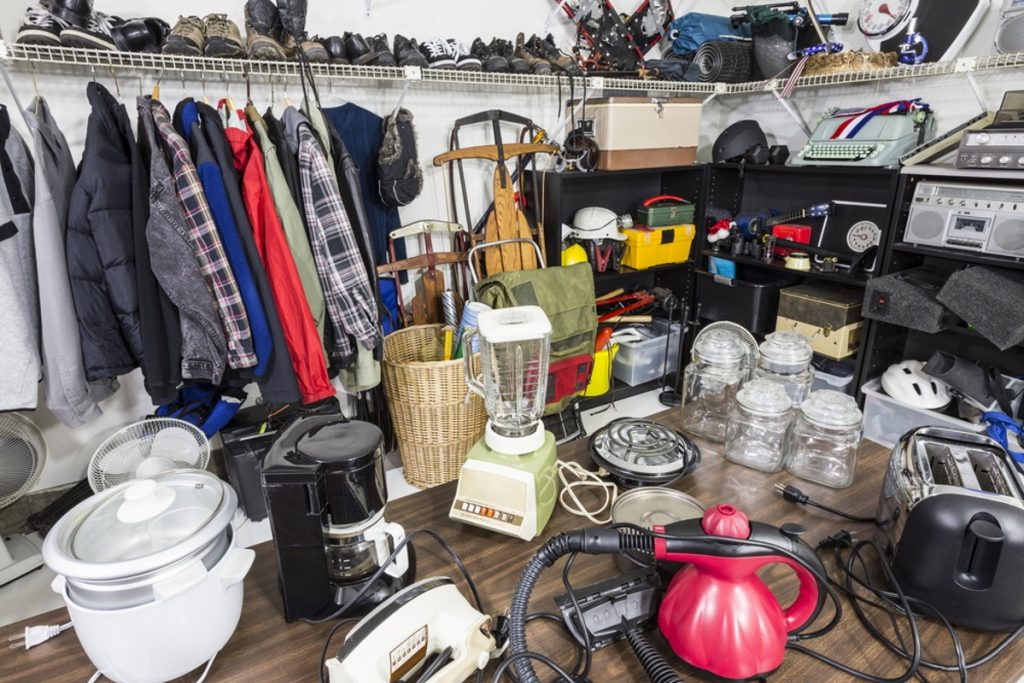 The website greenamerica.org summarizes yard sale benefits well, "You do what you can to recycle your paper and aluminum cans, so why not recycle your clothes, your old records, that vase your mother-in-law gave you three years ago, and the kids' unused toys—and make a little money while you're at it?"
Items Commonly Found at Yard Sales
Dishes, cookware, kitchen items
Artwork
Sports memorabilia
Picture frames
Furniture
Sporting goods, camping gear
Fitness/exercise equipment
Appliances
Entertainment
Clothing, coats and jackets, costume jewelry
Electronics
Misc. household items
Hobby and craft supplies
Baby/kids items
Lawn equipment/tools
The Rise of Online Buy-Sell Groups Changed the Game
The Internet has made it possible to skip the headaches of holding an in-person yard sale and go straight to online. This allows transactions to happen all year round and every day of the week. Chances are there's a local buying and selling group in your town, even if you live in a more rural part of North Texas. Here are just a few and how they work:
Facebook
Facebook Marketplace enables users to post new and used items for sale. From home décor to furniture to handbags to wedding dresses, buyers can search by location, item description and price. An interested buyer can easily message the seller to negotiate price, pick-up, shipping, etc. Secure online payment tools including Venmo and Zelle make this online marketplace even more convenient!
Facebook Groups are created by users and are aimed at residents of a city, specific neighborhood, or nearby area. In these free groups, approved members can inquire about items they are looking for, post pictures and descriptions of items they want to sell, and work directly with the seller by commenting directly on the post or sending a private message.
5miles
This is a buy-sell app that launched in 2014 and has an office right here in Dallas. Officials for the application say they now have more than 2 million active users. Also free, 5miles looks a lot like a Pinterest board of items available for sale. Simply snap a photo and enter a short description to reach thousands of potential buyers within five miles of your home in seconds. One of the bigger selling points for 5miles is that it uses feedback ratings and asks users to verify their identity by phone or Facebook to cut down on scams.
OfferUp
OfferUp has a similar format to 5miles, allowing users to connect with neighbors just as easily as people across the country. Users can instantly message sellers to negotiate price and set up a time to meet. Buyer and seller profiles include ratings, badges, and transaction history. It boasts itself as the largest mobile marketplace in the United States, with users spending equal amounts of time shopping and selling on the app as they do on SnapChat or Instagram.
Listia
Listia is structured as an auction and bartering site that uses a point system for bartering instead of money. Simply sell all the stuff you don't use, such as DVDs, clothing, and toys, for free and rack up points (called Ink) when others buy your items. You can then spend your Ink to get free stuff you'll love from millions of members.
The explosion of smartphone applications catering to buying and selling items online—which naturally promotes the Reduce, Reuse and Recycle movement—seems limitless. Check out this article to learn about even more online yard sale resources.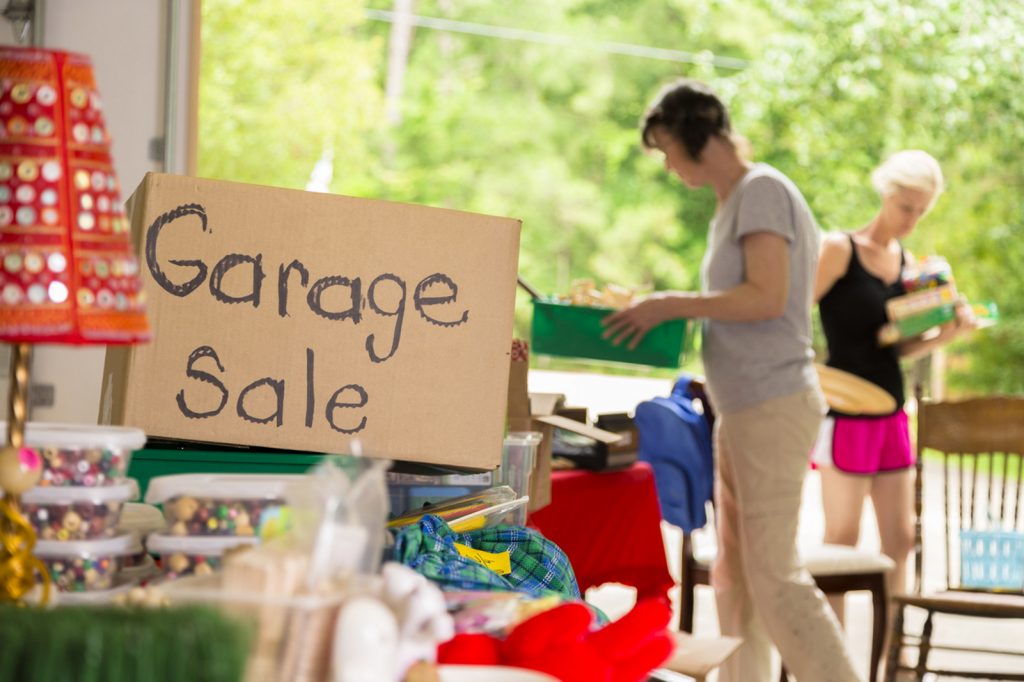 No matter the yard sale format—app, website, social media or in person—everyone loves a good bargain and keeping reusable goods out of the trash. Plus, anything that doesn't sell at a garage sale doesn't have to end up in landfills, either. Instead, there are plenty of local charities that can repurpose unsold items and perhaps even create jobs in the process. Many organizations offer pick up of donations, making this option even more convenient that finding a place to dump unwanted items.
Is your goal to clear out space in your house, pick up a few bucks, and do something good for the environment? It might be time to hold a virtual or in person yard sale!
Reduce, Reuse and Recycle with Texas Recycling
Are you a small business or individual who loves yard sales and aims to Reduce, Reuse and Recycle? Texas Recycling is a leading recycling center in Dallas, Texas. Our dedicated Public Buy-Back Center makes it easy for small businesses, sole owners/operators, and individuals to transform recyclables into extra cash and help the Earth. To learn more, and for current hours, call 214-357-0262 or contact us.