As appeared in Scrap News (July 5, 2022), Want to Build Ties with Police? Let Them Turn a K-9 Loose in Your Facility by Hannah Zuckerman
Six years ago, Texas Recycling Inc. moved from an industrial area to a residential neighborhood in Dallas. President and co-owner Joel Litman began getting the metals and paper company involved with the local community. Those efforts included collaborating with local law enforcement. The company had little contact with police at its old facility, but Litman soon found that there are many ways to get engaged.
A Good Neighbor
Proactively meeting with law enforcement has been rewarding for Texas Recycling. The neighborhood police officers often stop by to check on the business. "They know the neighborhood, they know the people, and if we have questions, they can help us a lot," Litman says. "We don't typically have reason to call on the police, but if we need them, we know they're there."
He recommends other recyclers get to know their local police or sheriff's department for many reasons.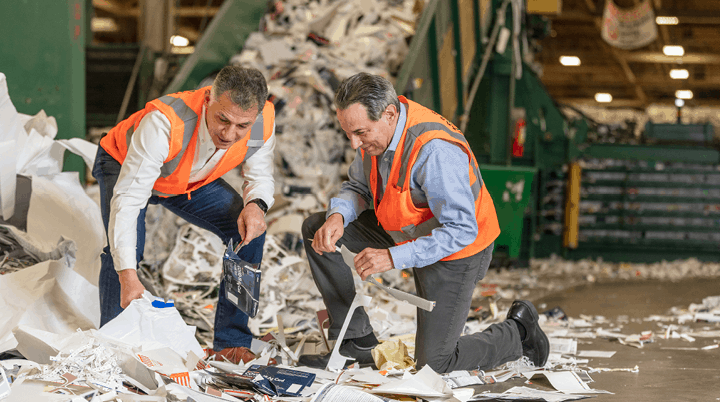 Moving into a residential area initially drew some concerns from neighbors, Litman recalls. That's why having buy-in early from local leaders, like the police, is important for recyclers. "We're part of the community, and we keep our eyes and ears open for what's going on in the neighborhood," he explains. "[The police] can show the neighbors that we're here for the long term, and that we want to be players in the community."
This collaboration helps recyclers become trusted members of the community and gives law enforcement a better understanding of the industry.
---
Texas Recycling is a well-known presence in the recovered paper industry. For nearly three decades, the Dallas-based processor has focused on buying and selling scrap paper, primarily high grades such as sorted office paper, deinking grades and bulk grades. The company also buys and sells bulk grades such as old newspapers and old corrugated containers (OCC). In April 2022 after a hiatus due to the COVID-19 pandemic, Texas Recycling started accepting aluminum cans again at it's Public Buy Back Center.
Read Full Article PDF
Read Full Article Online