Get Started with 5 Tips from Texas Recycling
As one of the leading multi-material recycling companies in the Dallas/Fort Worth area, Texas Recycling is committed recycling awareness. We want to spread the word about how recycling benefits individuals, municipalities, organizations, and businesses of all sizes. Plus, we strive to be a go-to resource for tips and ideas on how to recycle successfully and how to reduce waste in the workplace, at home, and in the community.  
In 2013 the City of Dallas initiated a Zero Waste Plan. The goal was to divert 40% of all recyclable and reusable materials from the city's landfills by 2020 and generate no landfill waste by 2040. According to DFW Zero Waste Alliance, regional research shows that the DFW area recycles approximately 22% of the materials used. The national average is about 34%.
For many businesses, the biggest obstacle to recycle and reduce waste in the workplace is the lack of a plan. Most experts agree that starting off with some simple measures to reduce, reuse and recycle materials is usually the best approach. Here are five simple things your business can do to get the ball rolling.
Tip #1: Switch to Recycled Paper
In 1997 Frederick Wilfrid Lancaster originated the idea of the "paperless society". He envisioned a world in which books, letters, business documents, etc. would be replaced by electronic communications and storage.
While we're a long way away from making this a reality, there are several things that can be done to recycle paper and reduce waste in the workplace. If going completely paperless is not possible, consider buying recycled paper from local suppliers. This can help reduce the number of trees and the amount of energy needed to manufacture new paper. It also reduces the greenhouse gases created by the production and transportation of new paper.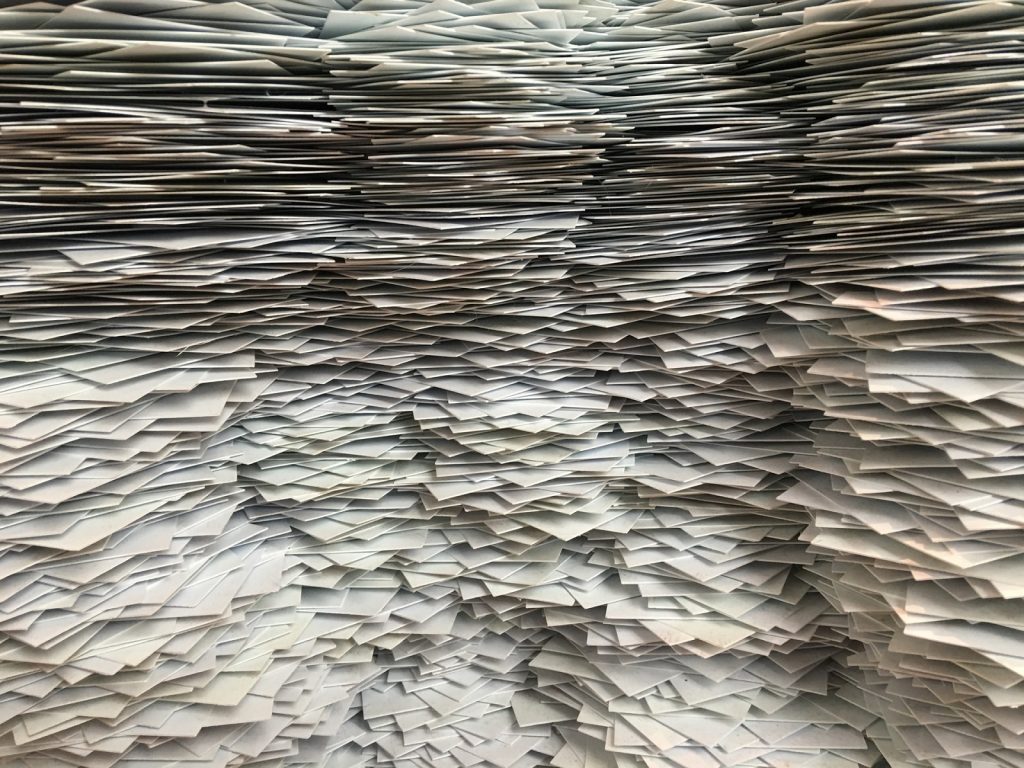 Also, setting office printers to print on both sides can also help reduce waste by minimizing the quantities of paper printouts your business produces. Plus, using scrap paper instead of sticky notepads and reusing file folders are additional ways to reduce waste in the workplace.
Fact: Recycling 1 ton of paper saves approximately 17 trees, 7,000 gallons of water, two barrels of oil and three cubic yards of landfill space.
Tip #2: Minimize Packaging Waste
For many manufacturing businesses, industrial companies and fulfillment centers, packaging generates a huge amount of waste. When shipping items to customers or between offices, be sure to pack cardboard shipping boxes as densely as possible. Use recyclable paper or cardboard padding materials instead of polyethylene bubble wrap or polystyrene packing peanuts. If you must use bubble wrap, it can often be recycled through plastic bag recycling collections found in many grocery stores. It is often not accepted by curbside community recycling programs.
When transporting materials from office to office, consider using reusable containers like Rent a Green Box  or other zero waste containers instead of cardboard boxes.
Learn more about environmentally-friendly packing materials here. 
Fact: 50% of the plastic we use, we use just once and then throw away. We currently recover only five percent of the plastics we produce. The average American throws away approximately 185 pounds of plastic per year.
Tip #3: Decrease Energy Consumption
Computers, copiers, and other office machines are essential for most businesses. They also consume a tremendous amount of energy. Much of that energy consumption is "vampire power" or "phantom load", which is energy that electronic devices use even when they are turned off or in standby mode. Although it is almost impossible to eliminate vampire power consumption in most workplace environments, there are conservation steps that help reduce waste.
For starters, all office electronics power settings can be adjusted to optimize battery usage and hibernate during periods of inactivity.
Next, infrequently used devices should be kept unplugged, and only plugged in when needed.
By plugging multiple devices into a power strip/surge protector, all of them can be turned off with a single flip of a switch.
Power strips that feature motion detectors and programmable timers and other energy saving technologies make it even easier to reduce wasted energy.
Fact: A third of a PC's energy is used by the monitor. A PC monitor left on overnight can waste enough electricity to laser print over 500 pages. Reducing your PC monitor brightness from 100% to 70% can save up to 20% of the energy the monitor uses.
Tip #4: Manage Breakroom Waste
For many businesses, employee break rooms are a major source of landfill waste. But by following these steps, it's easy to reduce waste in the workplace.
First, your breakroom should be equipped with separate, clearly labeled containers for recyclables and trash.
Investing in durable, reusable cups, drinking glasses, plates, and eating utensils is also a great way to reduce waste and eliminate the cost of purchasing disposable products over and over.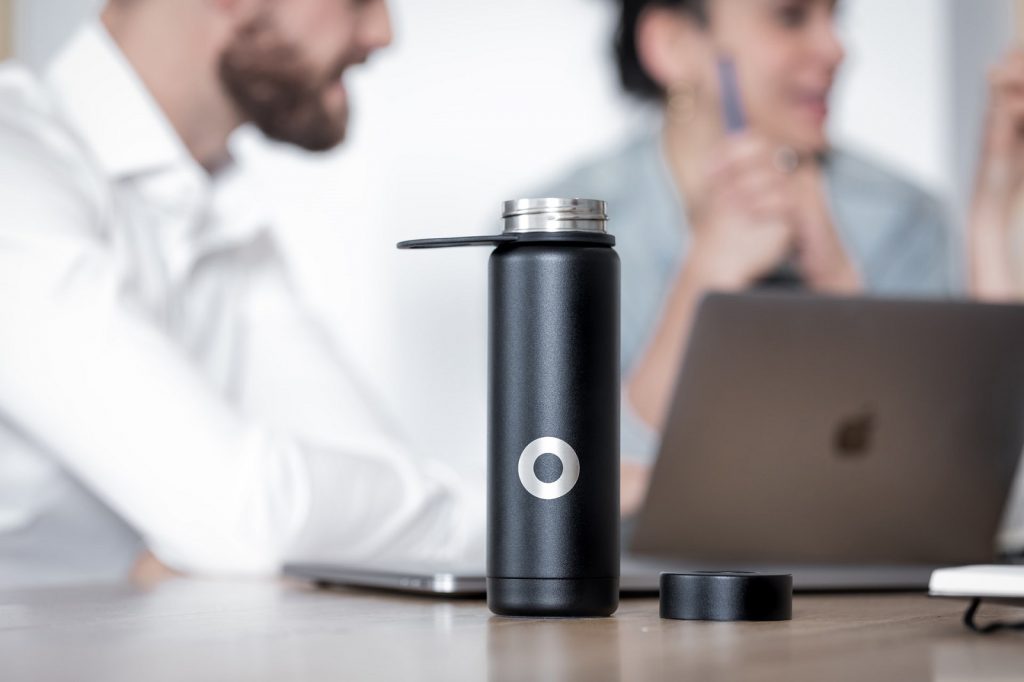 While plastic shopping bags are convenient, they are also a major contributor to landfill waste. Encourage employees to reuse them when possible and recycle them when they've outlived their usefulness. Even better, distribute reusable lunch bags as an employee bonus or gift.
Consider installing a reverse osmosis water filter to help reduce the amount of water bottles consumed in the workplace. Again, gifting branded reusable water bottles is a fun idea for employees!
Fact: Americans purchase approximately 29 billion water bottles annually, and only one in six is recycled. U.S. landfills contain about two million tons of discarded water bottles.
Tip #5: Partner with a Local Recycling Company
Once a company makes the commitment to reduce waste in the workplace, the next step is choosing the right recycling company to meet recycling goals.
For smaller businesses, dropping off recyclable materials at a recycling center is a great way to not only recycle and help Mother Earth, but also generate some extra revenue. Company recycling is an easy way to join and earn extra cash for your next office party or staff lunch—or reusable lunch bags and water bottles!
Larger commercial or industrial companies may qualify for customized commercial recycling services. Eligibility is based on weight/volume minimums, storage and pick up requirements, and certain specifications of recyclable materials such as paper, cardboard, or metal. Recycling plants that offer this service typically provide clients with convenient, scheduled pickups at their location.
Recycling companies that offer commercial recycling services can also provide recycling bins for paper, cardboard, aluminum cans, scrap metals, and other materials.  Some also provide industry-compliant and NAID-certified information destruction services for E-waste and sensitive business documents. Others also partner with or recommend shredding companies, like Action Shred of Texas,  to securely destroy documents and other types of information and products.
Commercial Customized Recycling Programs begin with Texas Recycling 214-357-0262
Implement these 5 tips to reduce waste in the workplace to help the environment, save money spent on resources, and improve recycling awareness among employees!
Are You Ready to Reduce Waste in Your Workplace?
Texas Recycling creates customized solutions for companies that want to recycle and reduce waste responsibly—and affordably. Plus, our customer service is second to none. We can help your company recycle and reduce waste in the workplace and help your bottom line. To see if your company's recycling volume qualifies for a commercial account, call Texas Recycling at 214-357-0262 or contact us.