DALLAS, TEXAS (April 2022): Texas Recycling,in Dallas, a family-owned local recycling plant, builds strong community relationships with residents through events at Jubilee Park Community Center and other community programs. Texas Recycling President and Co-owner Joel Litman shares how involvement has benefited both the neighborhood and the company.
Community Ties
Texas Recycling moved to the Jubilee Park area in December 2015. Compared to the previous location in a light industrial area of Northwest Dallas, this new location on S. Barry Ave. placed the plant across the street from residences. This fostered an opportunity to become involved with the neighborhood and share enthusiasm for recycling in Dallas with the community.
Community job fairs at the Jubilee Park Community Center are one of the ways Texas Recycling became immersed in the area. Participating in job fairs allows residents to apply and learn about job opportunities at the nearby Texas Recycling plant. According to Litman, Texas Recycling has employed several community residents.
Texas Recycling also participates in National Nights Out in Jubilee Park, as well as in neighboring Owenwood and Dolphin Heights areas. At these events, the business shares information about their facility and recycling, including the Texas Recycling Buy Back Center where locals can sell recyclables such as paper, cardboard, and aluminum cans to earn extra income and help pay for community summer camp programs. Similarly, Texas Recycling has participated in wellness fairs. Plus, Texas Recycling helps sponsor these events, supporting food supplies and other needs. "We make ourselves visible if assistance is ever needed," says Litman. Action Shred of Texas, a sister company that provides commercial paper shredding and document destruction, also holds shredding events for the communities. This is in addition to collaborating with Texas Recycling at job fairs, wellness fairs, and other events.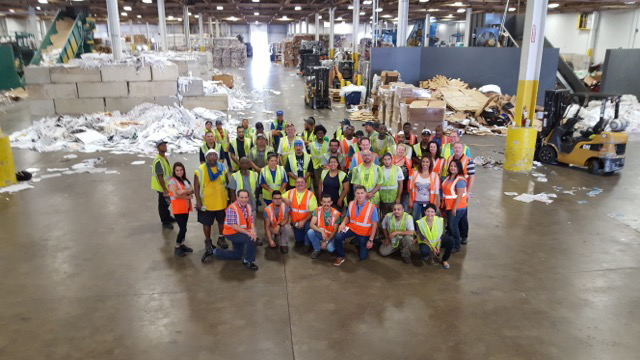 Litman is a past president of the nonprofit organization Jewish Family Service of Greater Dallas (JFS). He introduced JFS to Jubilee Park organizers and initiated a partnership that brings JFS services to Jubilee Park residents.
Additional community outreach includes assisting with food distribution during the pandemic, activities at Oran M. Roberts Elementary school, building a relationship with the area's storefront police department, and participating in former Dallas City Councilman Adam Medrano's annual Senior Christmas Luncheon.
Though no longer an active program, Litman shared Texas Recycling's participation in the transitional program through the Dallas Leadership Foundation. This faith-based program supplied housing and support for men who had been incarcerated for low level felonies. With the goal of keeping men from returning to the penal system by successfully re-entering the working world, the program had a strict set of rules and expectations. Texas Recycling provided job opportunities at the plant to program participants. Through both the company and the organization, these men received employment, mentoring, and leadership skills.
Residential Area
Texas Recycling in Dallas recognizes they are a large commercial facility in a residential area. The company strives to give residents an understanding of the value in having a recycling facility nearby and comfort level in the plant's presence. By being visible and a good neighbor, lasting relationships have been built. Says Litman, "We want to be a partner and support the community. We want to be a part of the civic engagement that folks here have. They are proud of where they live and want to have productive lives with opportunities for their families and kids. Texas Recycling is glad to do what we can to help."
Litman adds that he and others on the Texas Recycling team have enjoyed getting to know community members. Working in close proximity 5 days a week, it is nice to give a hug or shake the hands of neighbors at work, just like with neighbors at home. The benefit of the strong partnership between Texas Recycling and the Jubilee Park community has proven beyond expectations of all parties.
Texas Recycling, celebrating its 30th anniversary in 2022, plans to remain an active member of the Jubilee Park Community. Litman hopes the community center will "continue to provide residents with resources to live better lives. Living productively with job options nearby has strengthened the community." Texas Recycling is looking forward to being a part of that.
About Texas Recycling
Founded in 1992 by the Litman family, Texas Recycling is a leader in the Dallas/Fort Worth area for value-added, quality commercial recycling. Their South Dallas operation fills more than 225,000 square feet of manufacturing and warehouse space. This location brings paper, newspaper, office paper, corrugated cardboard, aluminum cans, and industrial metal recycling to an area in D/FW that did not have this opportunity previously. Texas Recycling believes in delivering uncompromised customer service to its clients and developing strong ties with the community.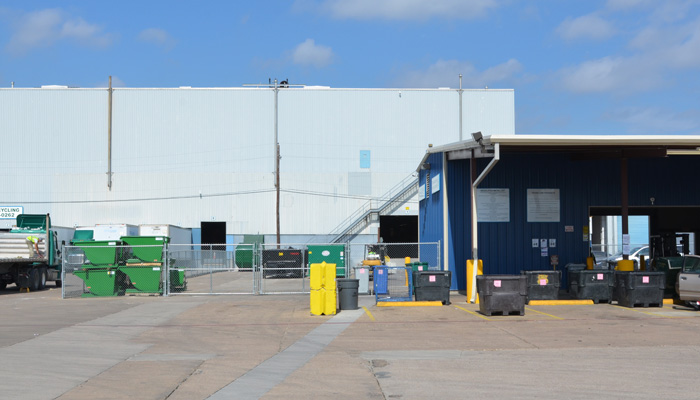 About the Texas Recycling Buy Back Center
As the largest family-owned and –operated paper recycling and multi-material buyback center in D/FW, Texas Recycling collects and ships millions of pounds of scrap materials to domestic and international consumers each month. The Buy Back Center accepts paper, newspaper, office paper, cardboard, and aluminum cans. The Buy Back Center is open to the public on weekdays near Fair Park and Downtown Dallas, at 1420 S. Barry Ave., Dallas, TX 75223. To learn more call Texas Recycling in Dallas at 214-357-0262 or visit the Texas Recycling website at texasrecycling.com.