American football games—whether NFL, SEC, Big 10, or high school—equals amped excitement. Stadium lights, passionate fans, cheerleaders, queso-dripping nachos, hot dogs, and cold drinks are all a part of the experience. However, fans eating, drinking, and having a good time can produce an incredibly large amount of trash. Fortunately, with increased environmental awareness amongst fans, there is also more game day recycling in stadiums at football games
Football's Lasted Touchdown: Recycling in Stadiums at Football Games
It's no secret that Friday nights in Texas are for football. But while chowing down junk food did you ever wonder about more than first downs and touchdowns? Next time, take a look around the stadium. Do you notice the plastic bottles, empty boxes of fast food, torn candy bar wrappers, squashed cups, soggy paper nacho bowls and more? With fall comes beloved football activities—watching, cheering, eating, tailgating—and a whole lot of waste. Most people obsess about their teams not losing games. But one of football's biggest potential losers is the environment. An average college football game generates about 50 tons of trash. That's one reason why a football game can be a great opportunity to promote game day recycling!
There are over 1,200 high school football stadiums in Texas, with a combined capacity of over 4.3 million people. That doesn't even include high schools that play in nearby college and professional stadiums. That means that the entire population of the state of Oklahoma—or the entire population of the country of Panama—could fit in Texas' high school football stadiums. If only one-third of that 4.3 million are drinking colas and water, and/or buying food, what is going to happen to all that trash? This translates to almost 1.5 million people who need to do something with their paper and plastic trash while at the stadium. They need access to paper and plastic game day recycling in stadiums.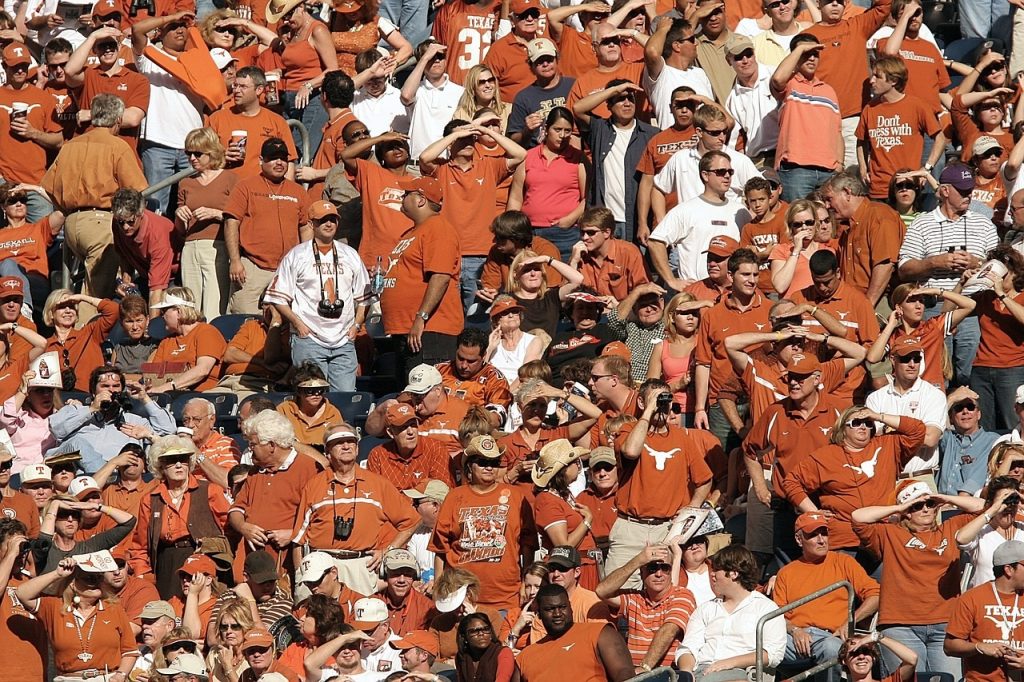 Now, let's talk about the cost of stadium trash. We found several news items about the cost of stadium clean-up. Although the focus is on college stadiums, they tell the story. Cleaning up costs big money:
Back in 2014, OSU spent $29,200 on postgame clean-up. By season's end, OSU's stadium clean-up bill was almost $200K
Around the same time, Texas Tech also spent about $200K for other maintenance and game-day prep. It is interesting to note they also reported using "1,500 65-gallon trash bags per football game, with about 15 percent of the trash recycled. There are about 105 trash cans just inside the stadium, with an additional 40 in Raider Alley." This is great progress!
So how can we all promote game day recycling in stadiums and reduce trash-related costs?
Assess the current awareness and usage of game day recycling bins at your local stadium. Determine if recycling is even on the radar.
Approach and engage your school district, schools, booster clubs and organizations to identify how to encourage game day recycling among stadium football fans.
Take a Do-It-Yourself approach. Make sure your friends, family and stadium patrons know they can do their part by taking their trash with them and recycle.
Publicly give kudos to those teams and franchises that do support and promote game day recycling in stadiums. Post encouragement for recycling on their social media pages and/or tweet your support. The more we voice our opinions, the more they listen, and the more recycling benefits!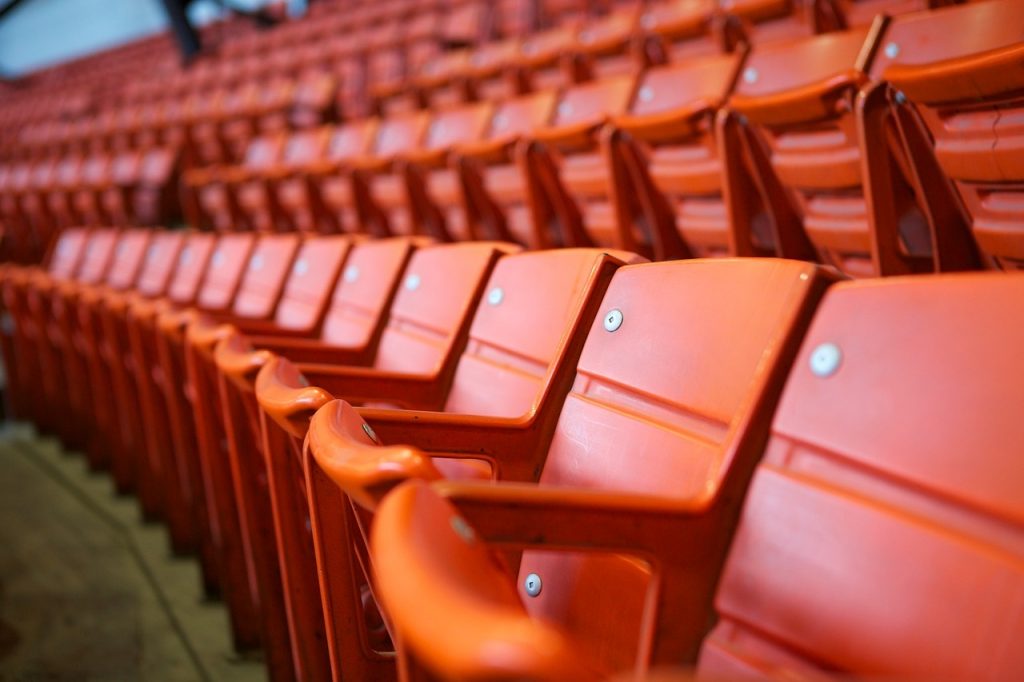 Be aware of what can and can't be recycled at football stadiums. Each stadium may have its own guidelines, but in general:
Aluminum Cans – Be sure to recycle your cans If you're looking to drink a zillion beers game day. Proper recycling of aluminum cans is important for our planet and our economy.
Plastic & Glass Bottles – Plastic bottles are recyclable, as are plastic takeout containers. To qualify, they must be empty, clean, and dry. Glass bottles can generally be recycled but check with your stadium. Tip: rinse and dry these before recycling. Note that caps are too small to be recycled.
Pizza Boxes – Once a pizza box is soiled with grease and cheese, the corrugated cardboard is no longer recyclable. However, if the top half of your pizza box is oil-free, you can tear it off and recycle that part.
Paper Plates and Napkins – Like pizza boxes, these are not recyclable when soiled with food and liquid. Choose reusable or biodegradable items instead.
Plastic Utensils – Unfortunately, not everything made of plastic is recyclable. Recycling plastic utensils is dependent on the stadium so check for guidelines.
Foam Containers – Foam takeout containers, condiment packets, and plastic bags are all recycling fouls. None can go into the recycling bin.
Football Game Day Programs and Posters – Gameday programs from sporting events printed on paper with inserts for team rosters and other individual event information can generally be recycled, as can printed posters. Keeping printed paper items out of landfills is a definite win for recycling!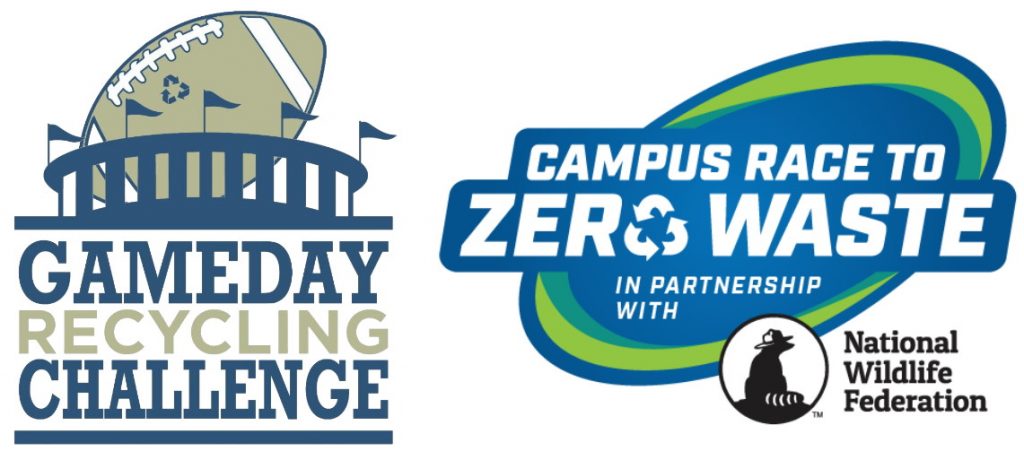 Support the Game Day Recycling Challenge, a nationwide competition among universities to reduce and recycle in stadiums at home football games. In 2019, 50 schools rallied fans to recycle in stadiums. LSU, the winner, had 127,940 pounds of material recycled, composted, or donated. Millions of pounds of bottles, cans, paper, cardboard and more stayed out of landfills. Plus, participating schools spread awareness and inspired action around trash reduction. Read about this year's challenge here.
Score with Texas Recycling for Customized Industrial Recycling Programs 214-357-0262
Now, go root for your favorite teams, enjoy those Friday night lights and yes, participate in game day recycling too! In the meantime, we're looking at how and when to visit Falfurrias, Rio Grande City, and other small-town football games. They are listed as having the "Best Small-Town Concession Food!" Fajitas, boudin balls and pit-cooked barbecue, oh, my!
Customers Choose Texas Recycling for Commercial Recycling
Are you a football fan looking for an affordable recycling program for your company? Texas Recycling creates customized recycling programs for commercial and industrial businesses. We can be a team player in assisting your business win the game of protecting the environment while helping your bottom line. To learn more or to get started, contact us or call our recycling specialists at 214-357-0262.